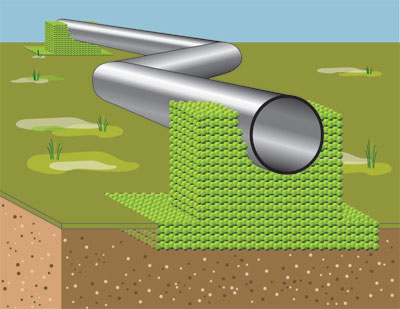 In this article we will explain about the contribution of Flextegrity to Bio sensitive pipe support for soil stabilization.
Flextegrity's material architecture presents the opportunity to design dynamic, resilient load support systems.  Weight can be distributed over a larger area without impeding drainage in challenging environments such as permafrost, wetlands and sand.  Our permeable icosahedral material would allow gradual infiltration with native vegetation.
In environments where moist, poorly consolidated alluvial soil directly overlays firmer materials, there is risk that 'waves' from seismic events can be further amplified.  A layer of an anisotropically designed FlexBlox material has the potential to separate these disparate soil layers, improve drainage of the alluvial layer, absorb kinetic energy, and mitigate resonant frequencies.
[divider style="dashed" color="#61af36″ opacity="1″ width="750″ placement="equal"]
Obstacles to Piping Systems
Piping systems play a vital role in transferring of fluid or gases which remains crucial for our day to day maintenance. It requires the civil engineering discipline to study the designs which certify the effective and efficient transfer and flow of fluids or gases. However, several obstacles can provoke the need for enhanced and amended system for constructing the designs of pipe in areas where environment could be a hindrance to overcome along with weather and seismic waves.
The seasonal weather patterns are creating problems for many projects of piping system. The problems related to seismic movements are also providing some limitation for piping systems and many other construction works. Civil engineering is focusing on investing new techniques which helps in eradication of such obstructions. The overlooking on the designs of piping system and their amendments was started when seismic protection for pressure piping system was studied by seismic experts and describes as the root cause for the damage due to earthquakes is pressure piping in various areas.
The Solution – Bio Sensitive Pipe Support
The projects of Flexblox solutions invested in their innovative ideas to create Bio sensitive pipe support. Bio sensitive pipe support is an upgraded version of piping system and is a remarkable invention in this regard. The flextegrity's material possess the qualities of tensile matrix and is suitable for compression as they control the competency of their used raw material.
Bio sensitive pipe support offers flexibility where it supports the load and can be expanded on a large surface which can obstruct the problems of drainage where environment provides challenges for such projects (Flextegrity, n.d.). Vegetation is also ensured by making the nature of icosahedral materials permeable. The permeability permits the water to be infiltrated which then results in further processing of vegetation (Bio-Sensitive Pipe Support, 2019).
The alluvial soil's risks are greatly reduced by using Flexblox solutions. Piping systems are more crucial to be dealt with in frozen areas, due the challenges it offers. Wetlands addresses the issues of post maintenance due to surface drainage and sediments (Sakhalin, n.d.). Another obstacle is sand where soil is not integrated and merged properly so this alluvial soil forms a layer over the materials which are firm and maximizes the risk of seismic vibrations to be expanded over a large surface and cause damage.
Seismic Resilience
The applications of bio sensitive pipe support solutions result in seismic resilience as refined pipe systems are designed to maintain themselves through vibration and seismic waves due to their designs and nature. Resistance from natural disasters and improved drainage system is ensured and alleviates the frequencies of resonance. Kinetic energy absorption materials are required to aid in absorbing shock energy's waves which in turn deems to be ideal for seismic protection.
The solutions give us the ease from post maintenance as required in wetlands. Permafrost designs were studied and experimented for years to arrive a conclusion; they still offer some difficulties in various regions. The material's nature of permeability, tensile strength, load bearing capabilities and compression strength offers this a variety of application in diverse fields of commercial use.
Bibliography